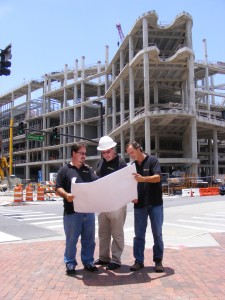 Commercial structural inspectors are known in the industry as people who ensure that a commercial property such as an office building, apartment complex or shop meet the required building codes and standards. Commercial structural inspections examine areas such as a building's roofing, heating, ventilation air conditioning (HVAC) system and the electrical wiring. If you own a commercial building, and thinking about buying a commercial building of some kind, or you're involved in selling a commercial building, here are some of the advantages of hiring a professional inspection team for your needs.
Troubleshooting — One benefit of undertaking commercial structural inspections Charlotte is that it can provide you with a list of items or areas that are experiencing physical decline, or that aren't up to building codes that may have changed since you last made an upgrade. If you're selling, this is an invaluable tool to help prevent a deal breaker' when you're near the finish line of the sale.
Negotiating Tool — Commercial structural inspections in Charlotte may also help you negotiate a better deal if you're buying a commercial property. If the inspection reveals things that need updating or fixing, you can negotiate a lower price or have the amount of the estimated repairs deducted from the final sale price. This often happens in residential inspections when repairs come to light that can affect the asking price of a home, but it's no different in commercial sales.
Safety — If you own a building, commercial structural inspections in Charlotte, can provide you and your employees safety and security, especially if the inspection reveals trouble spots such as faulty electrical wiring, or a roof that's in danger of imminent collapse. Your number one responsibility as the owner of a building is to ensure the safety of those who work within those walls, so conducting an inspection can go a long way in helping you achieve that goal.
Overall Property Assessment — A commercial structural inspection will also give you an overall assessment of the condition of a building. If you're an investor, this can help you determine the pluses and minuses of making that purchase. If you're an owner, you'll get a better understanding of what your property is worth and how much you may have to upgrade it to maintain fair market value in the event of a sale. In some cases, the inspection won't reveal any pressing issues, but the inspection report may recommend that you make certain upgrades.
These are some of the benefits you'll get by hiring a professional. Commercial structural inspections in Charlotte can save you money, provide added security for you building and help you determine upgrades necessary to bring your building up to current code.
---