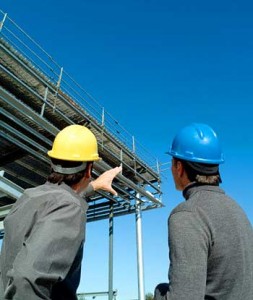 Whether you are tenant considering lease of a building, an investor considering purchasing an existing building, or a building owner seeking more information about an existing property before undertaking renovations or listing it for sale, commercial structural inspection is critical. Commercial units typically entail facilities such as office space, retail space, light industrial, restaurants, multi-family units, senior housing, motels, hotels, and other special purpose buildings. Our commercial structural inspections Roanoke VA meet the ASTM E2018 professional standard.
A typical building inspection covers the key components of a building: floors, interior walls, exterior walls, roof, attic, ceilings, plumbing, electrical, plumbing, restrooms, foundations, basements, parking areas, crawl space, and heating and air conditioning systems. However, specialty equipment such as storage tanks, commercial ovens, refrigeration units, coolers, and special industrial equipment are excluded from our commercial structural inspections Roanoke VA services. However, if you need such services, you may request and we shall link you with the most appropriate professionals who will get the job done competently. On the other hand, you may also request for other types of specialized inspections such as Electrical Inspections, Flat Roof Scans, and Infrared Thermal Imaging for Energy Loss Surveys.
We take a logical approach to solving building and engineering problems using various clues. In several occasions, solving commercial engineering problems require a much deeper understanding of structural engineering among other related topics. Building owners will often experience a number of foundation settlement issues misdiagnosed as structural issues. However, we will be able to solve various issues, including those that involve misloaded knee walls put in attics, or even undersized beams put under load bearing walls. We have extensive knowledge and experience in commercial structural inspections Roanoke VA.
The main purpose or objective of commercial structural inspections Roanoke VA is to provide clear, professionally written communication detailing some of the issues found during inspection made via observations and in-depth research conducted by the qualified inspect himself. And that in his opinion, these issues discovered are likely to be of much interest to his client because it is going to influence the client's decision, including buying, selling, improving, or maintaining that particular property. As you can see, this is a critical component of commercial property lease and purchase and you should use professional services. Therefore, it is important to have clear communication between the inspector and client. So, we strive to put all our findings in clear, plain English for our esteemed clients to understand. Moreover, we welcome any questions for clarification.
---