Published on March 8, 2019 by Structural Innovations in Roofing
After living in your home for a few years, you may be wanting to add some new architectural details to your living room, dining room, bedroom, or office.  Your eight-foot ceilings might be making you feel a bit claustrophobic, and you are wondering how you can add some height and intrigue to your rooms.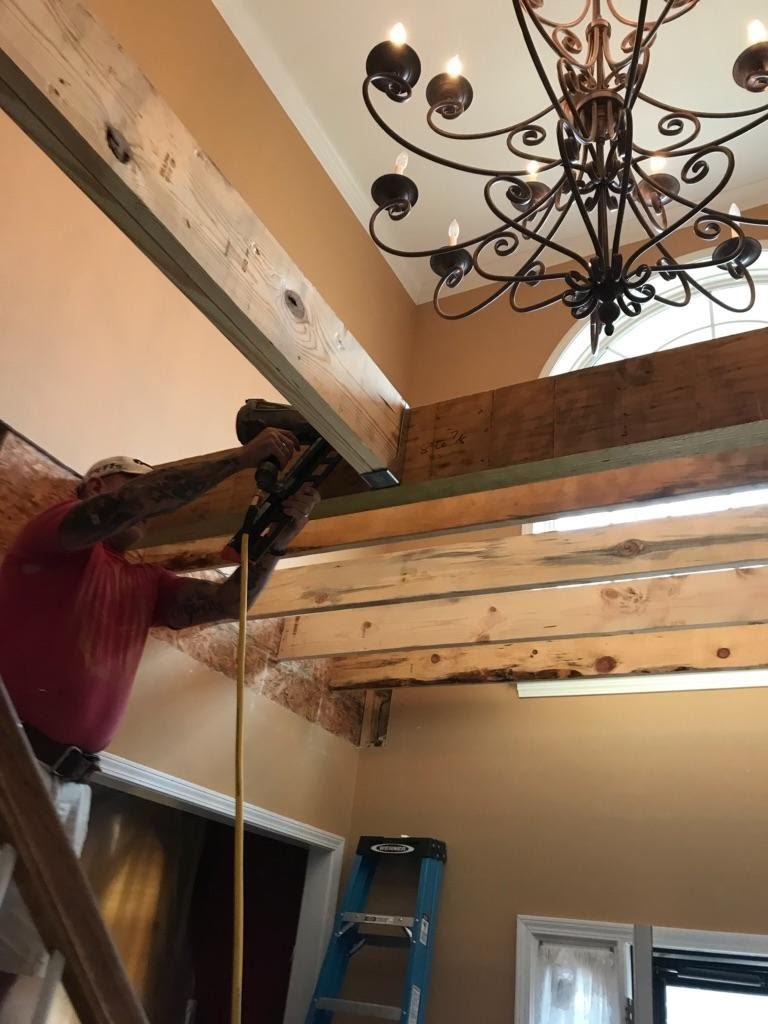 If you are looking to give your house a more impressive, open and airy feel, you should consider consulting with a structural engineering company to discuss vaulted ceiling ideas for your home.  You can customize your vaulted ceilings with heavy wooden beams, coffering, skylights, and light or dark wooden planking depending upon your desired aesthetic, and create the home of your dreams.
Although constructing vaulted ceilings in your home is one of the best ways to add value to your property, it can also be quite an undertaking.  When discussing vaulted ceiling ideas with architectural and structural engineering companies, you should be sure to note the time and money that it takes to complete your home renovation project.
So, what are some realities that you should take into consideration when you are browsing through vaulted ceiling ideas in magazines and online?  Reading through and carefully thinking about this list of pros and cons of having vaulted ceilings in your house can be beneficial to you before making your final home renovation decision.
The Pros of Having Vaulted Ceilings in Your House
1. Vaulted ceilings create an illusion of openness and extra room in your home.
You should consider adding a vaulted ceiling in your family room, kitchen, den, or bathroom to make your home feel bigger without actually tacking on any extra square footage in the form of a bonus room or the like.  By hiring a team of architectural and structural engineers to design these slanted ceilings that add more height to your desired rooms, you can create the illusion of your home having more space.
2. Vaulted ceilings give you the opportunity to let more natural light into your home.
One of the most popular vaulted ceiling ideas is to install a skylight—or two, or four—in your slanted ceiling.  Not only does the extra height make rooms feel larger, but adding skylights to your vaulted ceiling also allows more natural light into your home.  More natural light means that you can turn off the lamps and overhead bulbs in your house, which helps you save money on your next electric bill.
3. Adding vaulted ceilings to your house gives you the opportunity to create architectural intrigue.
Constructing vaulted ceilings in your home is a great idea if you are looking for a way to give your house an additional touch of flair.  Some ideas for vaulted ceilings that add even more architectural detail and character to your slanted ceiling include:
covering your vaulted ceiling with light wooden planking to make your home airier
crafting a coffered ceiling for added rectangular dimension
installing heavy wooden beams across the expanse of your vaulted ceiling
overlaying your vaulted ceiling with dark wooden planking to add richness and warmth to your space
4. Constructing vaulted ceilings in your house could increase your property's selling value.
If you are looking to eventually sell your home, one of the best ways to make your property more appealing to buyers—and simply, worth more money—is by constructing a vaulted ceiling in one or more rooms.  Buyers generally like the idea of having more natural light in a home, which can be easily achieved through skylights and larger windows when you have higher, slanted ceilings.  Plus, hand-crafted architectural details on high ceilings appeal to the eye and often make for good conversation and selling points.
The Cons of Having Vaulted Ceilings in Your House
1. Vaulted ceilings can make it difficult and expensive to heat your home during the winter.
One potential downside that people often overlook when researching vaulted ceiling ideas is how expensive it can be to heat homes with these high, slanted ceilings.  If you are considering building vaulted ceilings complete with skylights and taller, larger windows in your house, be prepared for an even higher energy bill during the cold months of the year.
2. Vaulted ceilings make rooms less cozy.
Maybe you like a snug, warm living space.  If that is the case, adding vaulted ceilings to your house may give your home an impressive design aesthetic, but your living space will most likely not have that same comfortable, homey feeling that it does with lower ceilings.
3. Dusting and cleaning features on vaulted ceilings can be tricky and troublesome.
Perhaps you do not mind housekeeping and cleaning.  Even if that is the case, it is much harder to clean ceiling fans, dust or polish woodwork, and replace old, burned-out lightbulbs that are located at the apex of a high vaulted ceiling than it is to maintain these same features when they are attached to a standard nine-foot ceiling.
4. Installing vaulted ceilings is an expensive and time-consuming undertaking.
Perhaps the greatest drawback to consider when you are looking through vaulted ceiling ideas is the cost to install these intriguing architectural elements.  Adding vaulted ceilings to your home renovation list can cost you upwards of $15,000 to start—without any special add-ons like thick wooden beams and the like.  Plus, construction can take many weeks to complete.  However, if time and your budget allow, installing quality vaulted ceilings that are professionally designed and fabricated by architectural and structural engineers can increase your home equity.
Discuss Your Vaulted Ceiling Ideas with a Reputable Engineering Firm
Adding vaulted ceilings to your home is one of the best remodeling options available when you are looking to increase your property's value.  However, constructing these vaulted ceilings in your house is not an easy or inexpensive task.  Although installing these ceilings can be a pricey and time-consuming undertaking, architectural and structural engineering companies can help make your vaulted ceiling ideas a reality.
If you are ready to discuss some of your vaulted ceiling ideas with a professional structural engineering firm, give Structural Innovations a call today at (704)-837-0337.  Our team of talented structural engineers can help you create your dream home interior in the safest, most efficient way possible.
Related: Reclaim The Empty Space of A Vaulted Ceiling
---